Hawaiian Islands Of San Clemente
May 05, 2004 06:07PM ● By Don Kindred
story & photos by Joe Moore
    Many have likened the beauty of San Clemente to the islands in the Pacific. When viewing our beautiful sunsets and watching the calming waves it's easy to lose yourself and forget exactly where you are. And if that weren't enough, there are a few shops that can take (or return) you to Hawaii as soon as you enter their door.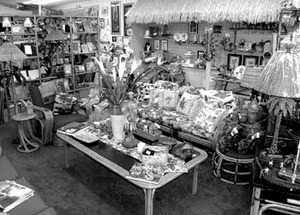 Two of these shops are literally side-by-side on El Camino Real between Sunrise Café to the south and Rite-Aid to the north. What's really special is the two shops compliment each other well.
Bamboo & Beyond
    The first is the newer Bamboo and Beyond. Owner Barbara Anderson will gladly take you on a Hawaiian tour (and far beyond). Even more, she can have your home redecorated to an island theme so that you'll never feel the need to leave. Whether you want the look in your bedroom, dining room, patio, or throughout the house, Anderson can help. She even offers custom designed pieces to suit your individual style, up to and including computer desks and armoires. She recently created a full size bar for one client.
    When visiting the store, ask to take a tour through Anderson's notebook. It has a plethora of photos showing the unique designs she offers. It's almost easier to ask her what she can't get.
    Five-years-ago Anderson went to the International Bamboo Congress. That was her start in making this beautiful wood available to others. She's never looked back, and has traveled the world looking for the well-made and extrinsic styles of bamboo that can form the centerpiece of any home or patio.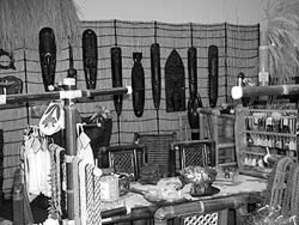 The artwork and accessories hanging throughout the store are stunning. Anderson offers incredible masks and sculptures carved entirely out of a single piece of hibiscus wood. And the various types of bamboo are alluring, as well. For instance, she sells black bamboo that has a dark richness "right out of the ground" and is only grown in one area of the world - Java. She also makes available other exotics like coconut wood (which resembles birds-eye maple) and tiger bamboo that like the black variety is grown in very limited places of the world. The variety and type of furniture is limited only to your imagination (or Anderson's) and she can take you as far as your dreams (and budgets) care to go. 
Annette and Lexi from Hula Beach.Hula Beach
    Now of course few of us have a home without any accessories and 'knick-knacks'. So after you've begun your redecorating you'll want to continue your Hawaiian shopping adventure at Hula Beach, Annette Welch's store, which was first to feature a Hawaiian theme in San Clemente.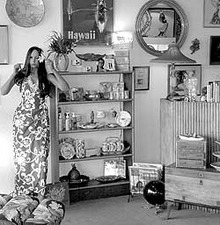 After traveling to Hawaii several times, Welch "felt that it was time to bring the islands to San Clemente." She acquires the majority of her stock directly from Hawaii and "tries to get over as often as possible" to add new products and distinctive provisions to her eclectic inventory. She searches out the rare and unusual artisans to bring back "that special item" from the islands. She says, "Each Island is different and you just have to go into the local stores." 
    Hula Beach also offers furniture, and features more rare and antique rattan and bamboo pieces including chairs and sofas. However, it's home décor and gifts that this shop excels in. Welch has so many ways to decorate your home that you could lose yourself and never return. For instance, the entire back corner is covered with bolts of Hawaiian style fabric. Reams and reams of material for window coverings, furniture, coverlets/quilts and any other purpose you can think of are all right there. She also carries unusual and interesting photo albums, statues, coffee table accouterments and paraphernalia. If you just want to 'Lei' around she has plenty of those to choose from as well. 
    Welch's shirts include the popular and well-recognized Rein Sponger and Big Kahuna brands. "I don't do as well in clothing," she revealed, "most people are more interested in items they can display all the time." But she truly enjoys blending the surfing attitude with a Hawaiian locale.
Aloha Spirit has a collection of Ukuleles...Aloha Spirit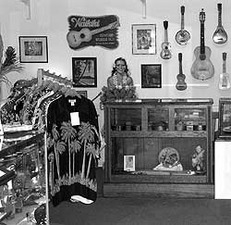 Our third island hop is to Aloha Spirit located in the Old City Plaza next door to Adele's Café. Michele Stewart was selling her collectibles on consignment with Annette Welch for about a year when she decided to open her own store. Along with her husband, Don, the Stewarts decided that after collecting for over 15 years, it was time to put their vintage collection (and others) on sale. What began as a passion for collecting ended "to where we got so much stuff, we became dealers," says Michele. 
    The couple found their present location for Aloha Spirit and knew immediately they belonged there. Don is heavy into Ukuleles and amplifiers and has many beautiful pieces including some Mahogany and Koa wood, the more rare pieces pushing $1,500.00. But more down to earth examples include newer items that are recreated from time-honored postcards and other artwork. Ask Don about the bass drum with the Royal Hawaiian Band motif. It's a great story in its own right.
... and beautiful pieces of koa wood.     Being diversified allows the Stewarts to collect, buy and sell what people would particularly enjoy. Their shop is decorated much like a comfortable living room and it is easy to walk around and browse the artwork and accessories to find that "one special piece" to bring your Hawaiian home together.
    If you find yourself missing the islands, just take a stroll through 'our little part of Hawaii.' These establishments might provide that tropical high you're yearning for. Mahalo and Aloha. b