Move Over The Secrets and Benefits of Spas Are Being Discovered – By Men!
Nov 01, 2003 10:23PM ● By Don Kindred
by Joe Moore
     Since the dawn of time women have always known how to take better care of themselves and their body then men. While we were carrying our clubs and dragging women by the hair, the ladies were massaging each other with oils and scraping the dirt and smoke of the cave from their skin.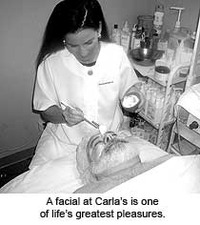 Throughout history, women have mostly outlived their male counterparts. I'm now convinced I know why. I recently went on a Spa-A-Thon. I visited four spas and received six different treatments in two weeks. Now before you chuckle too hard to yourself let me hit you with this fact: according to the International Spa Association, about 13 million men — or 29% of all spa goers — visited a spa in the year that just ended in June. That's a 5% increase from just one-year-ago. In fact, male spa attendance has exploded 800% in just the last decade. 
Bob Hope lived to one hundred. He had a massage everyday.
MINGEE'S
Even if you are not a Rockefeller you can treat yourself well. Mingee's on Del Mar offers pampering by the slice. While they have two rooms in the back for a variety of services like facials, most customers begin their experience with a manicure and pedicure. They have these incredible chairs designed to begin the relaxation process from the moment you sit down. Each has its own foot tub that Jacuzzi's your feet and a massage feature for your upper body. The entire staff at Mingee's is highly skilled. I sat close to the entrance and as each client came in they asked for their favorite employee. I never heard the same name twice. And while at first I was hesitant about letting someone work on my feet, I learned that a pedicure is a marvelous thing.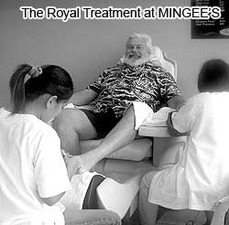 On the morning I was there I was the only male, but Lisa and Tina (my technicians) said that 40% of Mingee's clients are men. I received both a manicure and pedicure and when I came out I looked and felt like a Madison Avenue Executive. For those men who say 'I will never do that!' I promise you, you don't have a clue as to what you're missing. But my spa experience was just beginning.
From June 2002 to June 2003, 44.9 million people over the age of 16 visited spas in the United States. [International Spa Association]
BELLA TÚ
Up the street from Mingee's on Del Mar is Bella Tu, a favorite hair styling boutique with a room off to the side. There, Kristy took special care of me with a "back facial". Now I had heard of facials. Wasn't that the thing that women did to get all the layers of make-up off? What a back facial was I couldn't even guess. Well, the learning experience was exhilarating. After getting under the sheet Kristy cleansed, scrubbed, "exfoliated" and opened the pores on my back. It not only removed weeks (months, years?) of dirt and oil, but it made my skin considerably softer and it felt fabulous. She then proceeded to massage, tone and hydrate my skin, which not only left my skin as soft as a baby's bottom, but made me pretty pliable as well.
      Kristy offers a full range of services but currently says only 5% of her clientele are male. She hopes that will continue to grow. And though it certainly didn't cost it, I felt like a million bucks when she was finished. Now let me say at this point for those men raising an un-waxed eyebrow, this is not an episode of "Queer Eye For The Straight Guy". These are serious treatments that are not only designed for better living, but also for better health. Which brings me to my next point…
Currently women in the United States live an average of seven years longer then men. Coincidence?
5 ELEMENTS
Across the street from Mingee's and Bella Tu's is a unique boutique called 5 Elements. The lovely Parzod opened the boutique and spa two years ago this November. The moment I entered the spa portion I couldn't help but feel serene. The walls are painted deep navy and only the soft glow of candles light the path into the waiting area. While I sat back on the sofa, Renee, a licensed massage therapist prepared my room with  aromatic candles on every flat surface available. The fragrance was like the clean smell of the ocean with a bouquet of soft-scented flowers in the distance. The warm ambiance would put the most hyped-up coffee drinker into a sedated state. Renee waited outside while I slipped out of my clothes and slid under the sheet onto the comfortable massage table. Before beginning she asked if there were any particular areas that bothered me. Though I've had a history of lower back problems, I decided not to elaborate and instead told her "nothing specifically". It turns out I didn't have to say a word. Her experience and healing touch led her hands right to the problems. She concentrated on those areas, and with amazing skill relaxed all those tightly bound muscles as if she were reshaping clay. All the while the aromatherapy and mesmerizing music softly playing in the background calmed the rest of me. Parzod calls this the 'custom one-hour massage', and that says it all. Renee worked out every kink and sore muscle I've had for the last six months. I could barely ask any reasonable questions when I came out, because my brain didn't want to work either. But one thing I did learn is that not all massages are created equal. 
      5 Elements is one of the few spas in San Clemente that employs licensed therapists. Soon they will also have a doctor on their staff to perform laser treatments and further expand their already diverse range of services to their clients.
According to three of the four spas I visited, nearly 40 percent of their clientele is male. I never knew there were so many smart guys in San Clemente.
CARLA'S SKIN CARE
For the ultimate in pampering and composure I have to put Carla's Skin Care in the Old City Plaza at the top of the list. As a guy, if you are even contemplating the idea of trying a spa for the first time you need to see Carla and experience her "magic hands". I received two treatments from her: 'A Gentlemen's Facial' and a 'Micro-Dermabrasion'.
      It took me several days just to learn and then correctly pronounce the term micro-dermabrasion. I won't soon forget it again. In this treatment Carla begins with a triple exfoliation on my face, removing all the dead surface skin and then deep cleans what's left. After rejuvenating and bringing the 'Ph' balance back up, she uses a machine that she refers to as the "Power Peel". This little hummer exfoliates the pores utilizing fine grains of aluminum oxide at high speed. Now you may think this sounds like some modern form of torture, but let me assure you this had all the terror and pain of a cat licking your face. Which was just as Carla described it. The result of this treatment smoothed my skin, softened the lines of my face and in my mirror at least, swept back several years of aging. She then finished with a scalp and facial massage. My wife, Mary, said I looked like a 'happy drunk' when I came out.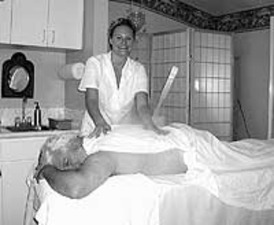 The piece de resistance however was the Gentleman's Facial. If you are seeking to just be spoiled rotten for a couple hours, there is no better way to achieve your quest than this. Whether your face is hairless, or sports a full beard and moustache like mine (since it is all white, I let it grow especially long approaching December), at Carla's you can receive a custom European style facial that includes a deep pore cleansing, an exfoliating and rejuvenating scrub, and a paraffin hand treatment - and that's just for starters. I was told once a special 'mask' was placed on you, often the technician lets you and the mask 'set a spell' alone. This is not the case with Carla. After she brushes the mask onto your face (which is also soothing) she then proceeds to massage your neck, shoulders, legs, feet, arms and scalp using a combination of massage and reflexology. 
       Reflexology is a massage that concentrates on pressure points on the body especially around your feet. Besides the benefits of total relaxation and stress reduction, it has been known to relieve chronic symptoms like migraines and asthma. For nearly two full hours you are treated like a Maharaja and worked on until there is not a tense part left in your body or mind. I strongly recommend you plan this treatment when you have nothing more important to do afterward than go home and take a nap. I came for the treatment at 2:30 in the afternoon and was still in no condition to do much of anything long past dinnertime. 
In 2002, over 7,200 day spas took in more than $11 BILLION in revenue. [International Spa Association]
     To further prove that this is not just a San Clemente phenomenon, spas around the world have created male-targeted treatments. You can now find such varied services as the "Emperor" facial at the Camelback Mountain Resort and Spa in Arizona, the "NFL (Nice Fellow League) Treatment" at the Parlor Spa in New York (not to mention "Pulp Friction" and the "Wall Street Relief" also in New York), and even the "King of Siam" at the Wellness Spa in Oklahoma. Industry officials agree that men are an untapped market. As a result, spas everywhere are doing all they can to break down the barriers to get more guys like me into a place that once was regarded only for women.
      With each of these treatments I am convinced (though not officially tested) that my blood pressure dropped multiple points. And while I didn't have a clue going in about what some of these treatments were designed to do, I would gladly repeat the process - and definitely plan to - in the future. 
      As far as price goes most are quite reasonable. Depending on the spa and treatment requested each service costs from $35 to $80 except the manicure/pedicure which is even less. No matter the treatment, I must confess that each of these were some of the most tranquil and rewarding experiences I have had in my life. 
      San Clemente has almost as many day spas as there are pylons on the pier. And while I would gladly spend my life testing different places in town, the spas chosen were highly recommended to me. If planning a visit, before just walking in, you should ask around, check websites or call to find out which services they offer and whether they cater to men, although most are comfortable with male clientele today. 
      In these days of high pressure where we can be reached anytime, anywhere and when even our vacations are rarely taken without the computer, pager or cell phone, it is more critical than ever to work out a little escape for ourselves. Regardless whether you shy away from your own shadow or are comfortable in any situation, you should learn to take advantage of the health benefits spas have to offer, both mentally and physically speaking. Each person and place I visited was highly professional and will quickly dispel any question you had as to why you might be doing this.
      Still Feel Awkward?
      If you still don't want to visit a spa by yourself, let me offer this suggestion. Buy a couple's package and go with your wife or girlfriend. You'll feel more at ease. And you'll score major brownie points for sharing her interests!
      Lastly a word to the ladies, if you want to show your man how truly special he is to you, I urge you to get a gift certificate (or several depending on your budget) for him. If necessary you should drive him down and push him through the door. Or better yet as suggested above, go with him. At first he may say he'll never forgive you, but afterward I promise he'll not only forgive, but he'll also never forget you. (And he may even reciprocate in the future with a certificate for you.) 
      Many men resist what may be in their own best interest. Spas are here to stay, and thank goodness for us guys, we're finally learning of their existence firsthand. So move over ladies, here come the boys.
For more information of any of the treatments described above or other offerings (yes for women, too) contact: Mingee's Nails & Spa 369-1818; Carla's Skin Care 361-5838; Bella Tu Salon 201-9428; and 5 Elements 361-0505.