Rocky Sabo- Surfing: Obsession to Occupation
Nov 01, 2003 10:15PM ● By Don Kindred
by Bill Thomas
     Rocky Sabo of Rocky's Surf City grew up as a surfer and still is. The day of his graduation from Aviation High School in Redondo Beach, his parents gave him a '62 Nova station wagon. He headed for San Clemente and started working for Natural Design surf shop. "I surfed every day I could," he reported. "Heaven to me was working in a surf shop and surfing."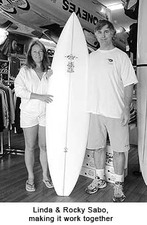 Sabo continued these preoccupations for a number of years. In 1977, he competed in surfing contests on the professional tour and for the next eight years in locations such as South Africa, Brazil, Tahiti, and Hawaii. To afford the pro tours, he worked in surf shops and searched for sponsors to support him. Among his commercial supporters were Clarion Stereos, Body Glove Wetsuits, Beachtown, Sun Breaker clothing, and Jacobs Surfboards. "You tried to scrape together as much as you could to get on the tour money wise, Rocky remembered. "One of the other money sources was, in Brazil for example, where the people bought the shoes you were wearing, the watches on your arms, your trunks, your wetsuits, whatever. It was like a swap meet in your hotel room. In the late '70s, Brazil didn't have any of that stuff. Now it's one of the biggest manufacturers of surf gear." 
     In 1981, Sabo started dating Linda, his future wife. They were married at the Ole Hanson Beach Club, dancing to the music of the Reef Riders band, with all their friends and family, in a perfect setting. Now they've been married 18 years and are raising their son, Cheyene, 11, and daughter Maili, seven. "I was still working for another surf shop when Linda and I started talking about opening our own," Rocky stated. "After all, I'd had jobs in surf shops since I was 13." 
     In the beginning, it appeared that before the Sabos even started their business venture, their luck had run out. "We opened in Shorecliffs in 1986, right when the recession hit, Rocky recalled. "The rent was cheap, and the people were great. We just needed more of them. I'm not sure how we kept the doors open." 
     During the next two years, the couple had two break-ins and a landslide, which closed Pacific Coast Highway. They had moved the store three times. Two days before they were scheduled to move into their present corner location on El Camino and Del Mar, the building burned to the ground. They opened their next store in a vacant space, two doors south. Rocky continued, "We hung in there. Our vendors, everybody helped us out, the City, everyone. Finally, after the building was rebuilt and we moved in, business improved tremendously. It was like night and day. It's amazing how the corner location increased our business." 
Who are your customers?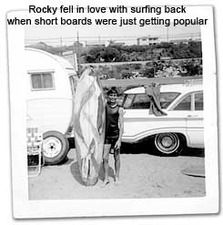 "It used to be 50/50 tourist and local. The summer's always busier and draws more visitors. We also like our family business. Families trust and support us. Parents leave their kids shopping in here with their gold card. Rocky reported an increase in female customers, " Many women can ride waves just as good as the guys." 
     "I'd also like people to know that if I don't have an item, I'll refer them to a good reputable place, where they can get it, or, if customers see something somewhere else that's cheaper, I'll match the price. I don't want them walking out for a $10 difference." 
What are your most popular products? 
"Surfboards. We have great boards for introductory to advanced. You can get a longboard for $350. It's hard to get a used one for that price. When someone gets a new surfboard, we usually introduce him to a wetsuit, a leash, a board bag, and everything that goes along with them. We still get the pros, too. I don't want to be just a hardcore surf shop or be mediocre." 
     Rocky credits better equipment for the rise in surfing. "Boards are smaller and lighter in general," he said. "What took me five years to learn, a lot of people now can do in the first month. With great equipment, the learning curve is quicker nowadays. Some people surf great after only three months. One of our friends, an agile soccer coach, who never surfed in his life, stood up and was turning the first day."
What's your business cycle? 
"In this business, you can go from eating steak and eggs one day to beans and franks the next. One bad year, and you're out of business. San Clemente turns into a ghost town in the winter. Business was off last year because of everything that was going on internationally. But most years, it gets better because more and more people are coming in. The winter and fall are alike. Spring depends on weather. To me, it's the next step to summer, so close I'm almost there. You can surf in rain, fog, and wind, but most people don't. But, after 18 years, we've got a great store. I just love sunny days." 
What's your involvement in the community? 
     "We work with all kinds of charities and community groups in donating prizes and helping them in their fundraisers. I'm on the Chamber of Commerce Board of Directors and started running their Seafest Surf Contest five years ago." 
Who's Your Ideal Customer? 
     "Actually, I mostly enjoy somebody who's never surfed before, people who've never seen a surfboard or the water, or they've done it back in the '60s and want to try it again. Surfing's a one-man sport. You don't have to depend on anyone else. You can be your own person. You can enjoy the surf but not talk about it. Still, there are some egoistical surfers who tell you about every wave and how many they caught."
What do you like most about San Clemente? 
"It feels like nothing's south of me. It's pretty wide open. You can get to the beach in five minutes. Everybody knows you. It's got a Mayberry atmosphere. It has the best climate. I live in San Clemente; therefore, I am. Everything's bitchin'. It's a great town. It's time to take it to the next level. With more competition coming into town, we've got to put the foot on the gas pedal and give 'em a run for their money."
Is there anything else people should know about you and your business? 
"Yes, it's not just me because my name's up there. The name is Rocky's, but the heart and soul is Linda's. She's really the glue that holds the shop together. For the past 18 years, she's never gotten any credit. She does the ordering, hiring and firing, all stuff I don't want to do. This is a ma-and-pa-family-run business. Plus, my best right hand man is my wife. She works everyday that I work, if not more. She's a salesperson in the store, does the bookwork, snaps me around, and keeps me in line. She keeps the checkbook away from me as much as possible. We're really good partners. She's got her ideas of thinking in the business, and I've got mine. Sometimes our ideas don't mix, but most of the time, they do."
     Rocky said he if he had to do it all over again, he'd follow the same path. He added, "My two kids and wife, I've got it made. Business is good, as long as the ocean stays blue and the sun yellow.