San Clementean Steven Abraham - Born to Sing and Play the Blues
Nov 01, 2003 09:57PM ● By Don Kindred
"The blues are the roots,
and everything else are the fruits"
Blues Great Willie Dixon
by Anne Batty
     While one may or may not believe in destiny. There is something to be said about the circumstances of one's birth affecting their fate. At least for San Clementean Steven Abraham, that would seem to be the case.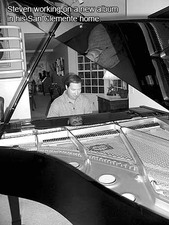 Born in Mississippi and reared in Inverness, a small town of 1,000 in the delta region (birthplace of the blues), Abraham's gentlemanly manners and soft-spoken accent betray his southern roots. Raised by hard-working parents, the owners of an upscale apparel business, he was brought up to value hard work, education and classical training. And during the day while his parents worked, a housekeeper, Cora Lee, whom they consider their second mom, cared for Steven and his siblings.
     At the age of five, inspired by his pianist brother, Danny, seven years his senior, Abraham began studying piano and music composition. Co-incidentally Cora Lee had a brother, Bobby Whalen, who is a blues musician. Influenced by the music preferences of his housekeeper, Steven became enamored of popular music and spent his time emulating that genre. Before long, his dalliance came to the attention of his music teacher and he was reprimanded for not practicing his classical pieces. So his mother taught Cora Lee the difference between the sound of classical and popular music, admonishing her to monitor his play while his parents were out.
      Although Steven was now under Cora Lee's watchful eye and sharpened ear, he attempted to fool her with some original compositions of his own. Eventually hearing those compositions, Steven's music teacher recognized him to be a child prodigy and encouraged him to continue writing in that vein. She began converting his compositions into notation and he was soon entering and winning musical contests and receiving many honors and awards.
      It was in Inverness as a young child that Abraham had opportunity to hear and to meet blues aficionado B.B. King. King, who was born in Kenlock (a small country area between Inverness and Indianola), played in the local juke joint, Fanny's Café, which also featured blues artists Bobby Blue Bland and Little Milton. In those days it was common for blues musicians to play sets continually in those clubs, from 7 p. m. on Saturday night, until late Sunday night. 
      "Every Sunday afternoon after church I went home, changed my clothes, and snuck out to the blues clubs where I peeked through the boards and listened to those soul musicians play the blues. That's where I gained my vocal style and soulful approach to performing," Steven said.
      Abraham spent hours and hours studying the blues musicians' techniques and vocal styles. And in 1978 at 16 years of age, he gathered some friends together and started a band.
"We were performing songs way out of our league," Steven recalls, "but we were so well received that local schools literally shut down for our performances. School was to let out at 3 p.m., but they would close at 2 p.m., and 600-700 people would show up to hear us sing and play in the gymnasium."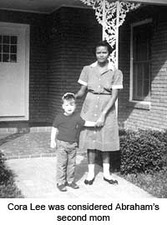 Abraham's band held their practice sessions in vacant real estate property owned by his father. The property was about 50 yards from Fanny's Café, one of the most popular blues clubs in town. Because Inverness was a small town where everyone knew everybody and everything about them, word traveled rapidly about Steven's talent and his band. Before long the blues musicians were coming to hear and to play with Abraham's band at his place, and in turn Steven was invited to come and play in the blues clubs. This kind of cultural interchange was an unusual privilege in the south of the '70s.
      In the interim before college that musical experience - along with performances in high school musicals, and singing in churches, for weddings and plantation parties - encouraged Abraham to continue playing, singing and writing songs, and to enter and win music competitions, many sponsored by the Mississippi National Federation of Music Clubs. It was during this time he met Boogaloo (Abie Lavelle Ames), "a five-foot piano player with fingers six-feet-long," Steven joked. Boogaloo played with jazz greats, Ella Fitzgerald, Louis Armstrong, and Duke Ellington. Steven was fascinated with Ames' style. So much so that he diligently studied his piano and vocal techniques.
As he began to put it all together, word of Abraham's skills traveled along the music grapevine. Thus he was asked to play as a part of the Platters' (a vocal group popular in the '60s and '70s) back-up band. 
      "When I started performing with the Platters, there were only three of them," Steven explained. "Like many groups of their time they did not read music. Basically they would hum and sing and we would learn a four hour show in one hour, improvising as we went along." 
      Soon, at the insistence of his father, Delta State University in Cleveland, MS was beckoning. Because Abraham's brother, Danny, had dropped out of "Old Miss" to go on the road with Bob Hope, his father admonished Steven, "the first year in college one is a freshman, the second a sophomore, the third a junior and the fourth year you are out - regardless of how many hours, regardless of what your degree is." Abraham believed him and he worked hard to cram five years into four. But at the same time he didn't let his music take a backseat. He was in two jazz bands, a chorale and a performance group, traveling the United States and the world during summer breaks. 
      Performing with Ed Shaughnessy, drummer from the Tonight Show was another of his coups. Also playing with Lee Greenwood, and even appearing onstage with the Dallas Cowboy cheerleaders. Along with all these playing and singing engagements, Steven Abraham was continually composing music. This creativity brought him in contact with singers like Joe Cocker and Kris Kristopherson. And during the '70s and '80s he was busy writing jingles, many still being heard on radio and TV today. 
      In 1985, it was finally time to get a "real job". Abraham stopped performing and writing music altogether, devoting his time to selling real estate. Five-years-ago he came to live and work in Laguna Beach, from there he moved to Laguna Niguel, then Dana Point and finally San Clemente.
      "The climate and family-oriented business environment is what drew me to this town," Steven revealed. "Having worked in my family's apparel business I was looking for that same kind of southern family business atmosphere to settle into. I found that feel here, downtown and in the Pier area. It feels like home."
      But Abraham's story doesn't end here. His real estate business has afforded him opportunity to network and reconnect with musicians and stars. The music bug has bitten him once again and he is currently in the process of writing and putting together an album. In this album "Southern Comfort … music to make you feel good", Steven feels all those cross-cultural experiences of his youth will come together. 
      "All the songs in this album will be originals," Abraham said. "The influence will definitely be the blues, in the style of BB King, Ray Charles, Joe Cocker and Van Morrison. The style will define who I am as a musician and will hopefully be a sound people can identify with."
      Upon release of the album, Steven plans to begin performing publicly again, singing and playing piano. He has missed the music business, and his giftedness, extraordinary life's circumstances and journey seem to indicate that the music business has certainly been missing something without him.