Twenty minutes with Mayor of San Clemente Stephanie Dorey
Aug 01, 2003 09:47PM ● By Don Kindred
Before moving to San Clemente in 1996, Stephanie Dorey had never even been to a city council meeting.
     "Really" she says, shaking her head, "I was an active PTA mom from Irvine but I couldn't even tell you who was on the City Council up there."
     All it took was the vision of a chain-link fence along the beach for a proposed beach trail to turn this former school teacher into a passionate community activist.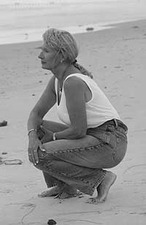 She co-founded the political action committee known as De-Rail the Trail which not only did exactly that, it also ignited a certain passion in Dorey. "I learned" she says proudly, "that you can make a difference." Her political indoctrination led to a concern for other coastal issues and soon found her speaking not only at local city council meetings, but to the state legislature in Sacramento and even at the federal level in Washington D.C.
     By 1999, she received the California Coastal Coalition's Volunteer of the Year Award and The Surfrider Foundation awarded her for efforts against the trail and other coastal issues. She became President of Restore the Shore, a Chairperson of Surfrider's Blue Water Task Force and served on San Clemente Beach Ad Hoc Committee. In 2000, after only four years in San Clemente, she successfully ran for the City Council, and just began her term as Mayor of San Clemente in 2002.
Wow! Not bad for a woman who moved to San Clemente just to retire and "maybe play a little volleyball."
Born: Los Angeles

Graduated: Cal State Northridge
Career: Teacher 15 years
Family : Husband John Dorey
Children: Son, Peter (22) 
Daughter, Lindsay (23)
Mom: Louise Martin, 
(living in SJC)
Elected to City Council: 2000
Serving as Mayor: 2003
Greatest Accomplishments as 
a MAYOR/City Council person:
Helping to stop Double-Tracking and awakening the city to water quality issues. 
Biggest regret: The Alley Project off El Camino Real and Del Mar.
"we started with a race horse and ended up with a camel!"
Biggest Surprise: The Financial Side. Budgets and the amount of time it all consumes.
Other committees/
Involvements:
Kiwanis
Cal Coast Board
Wetlands Recovery Project
Heart and Soul Coalition
Elected Officials for Open Space
Integrated Waste Management Board
Orange County Fire Authority
CUSD Liaison
Council Rail Representative
Favorite Quote: (She has many)
Few will have the greatness to bend history itself, but each one of us can work to change a small portion of events, and in the total of all those acts will be written the history of this generation. 
-- Robert F. Kennedy